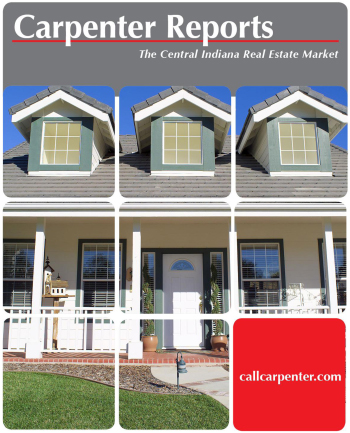 Carpenter Reports is a quarterly review of Indianapolis and central Indiana real estate activity over the most recent calendar quarter. Included are homes sold statistics, homes for sale inventory and more.
Housing Sales Still Strong While Inventory Lags

In the first quarter of 2016, Central Indiana's housing market continued to improve, with a healthy 6.6% increase in the number of homes closed, with more than 6,100 units sold. A healthy local economy, reasonably high consumer confidence levels and continued historically low interest rates likely contribute to these results.

However, inventory continues to be the market's challenge. Homes on the market – those available for sale – declined another 6.1% during the quarter to decade-low levels. It's good for today's sellers as they might expect to receive offers faster and for more money. The area's average sale price increased 4.3% compared to the first quarter of 2015, to $176,364. That may be good news for sellers, but lower inventory makes it more challenging for buyers, who have fewer homes to choose from and may be compelled to pay more for the home they want.

For pended sales, Boone, Hancock, Hendricks, Marion and Montgomery Counties all saw healthy increases above 10%. Only two counties – Putnam and Shelby experienced slight decreases in pended sales for the quarter. Within Marion County, three townships had very strong increases of 25% or more. Those were Center, Warren and Wayne.

The challenging inventory levels are apparent in that only three counties (Boone, Hamilton and Shelby) have higher inventory levels compared to last year's first quarter, led by Boone at +5.5%. Homes available for sale in five of the eleven counties decreased by double-digits. Hancock County dropped 18.3%, followed by Montgomery, Putnam, Johnson and Madison Counties.

Central Indiana's housing market remains healthy, healthier than expected, and we look forward to increasing inventory, which will reduce stress on buyers. An extended period of strong housing sales indicates growing consumer confidence on a solid foundation of a recovering U.S. economy.

We hope this edition of Carpenter Reports and the data provided is helpful in your understanding of today's residential real estate market in central Indiana.
First Quarter 2016 (published April 2016)
Fourth Quarter 2015 (published January 2016)
Third Quarter 2015 (published October 2015)
Second Quarter 2015 (published July 2015)
First Quarter 2015 (published April 2015)
Fourth Quarter 2014 (published January 2015)

Third Quarter 2014 (published October 2014)
Second Quarter 2014 (published July 2014)

First Quarter 2014 (published April 2014)

Fourth Quarter 2013 (published January 2014)

Third Quarter 2013 (published October 2013)

Second Quarter 2013 (published July 2013)

First Quarter, 2013 (published April 2013)

Fourth Quarter, 2012 (published January 2013)

Third Quarter, 2012 (published October 2012)

Second Quarter, 2012 (published July 2012)

First Quarter, 2012 (published April 2012)

Fourth Quarter, 2011 (published January 2012)

Third Quarter, 2011 (published October 2011)

Second Quarter, 2011 (published July 2011)

Fourth Quarter, 2010 (published January 2011)



Have more questions after reviewing this? Ask us!


TAGS: Carpenter Report | Indianapolis Real Estate Activity | Indianapolis real estate for sale | Indianapolis Homes for Sale statistics | Carpenter Realtors