Mobile real estate apps - technology for you

Have more questions about real estate smartphone apps, Indianapolis homes for sale or Carpenter Realtors® after reading this, ask us!

Carpenter Realtors is one of the nation's leading technology providers in real estate. May sound boastful, but it's only boasting if it means nothing to you.

For Buyers
As a home buyer, this tech means you'll find homes for sale more easily, get complete neighborhood information and view more details on each home faster. Doesn't your search come down to finding the right home, in the right neighborhood, at the right price - before someone else?

For Sellers
When you're selling a home, you want the greatest number of buyers to be exposed to your listing in a way that is convenient to them. And they're looking everywhere: online, newspapers, social networking sites, magazines, on their smartphones and more. That's why we provide the most information in the greatest number of the places they look.


And now- there's a local app for that!
callcarpenter.com is the most convenient, easiest-to-navigate mobile site you can find. Now you can find it with one click on your smartphone. You can search every home for sale in central Indiana, even across the world, with complete details, use our exclusive GPS HomeSearch, even find an agent and more.

Droid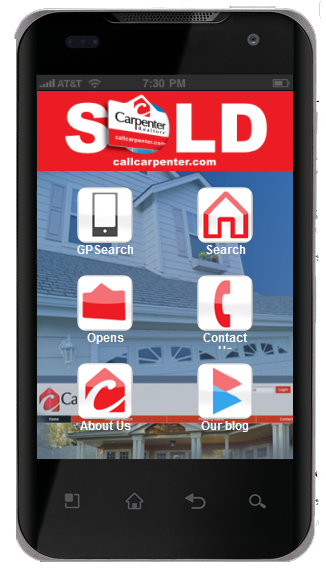 Visit the Android Market and search for Carpenter Realtors. You're done!









iPhone, iPad

Soon in the Apple Store, this app is currently available simply by clicking the QR Code to the left.

Once you're at our site, open Safari, then "Save to Home Screen." That will place our icon on your phone's screen for one-touch access to every home for sale.




Now go - have some fun!