Carpenter Realtors®
Mobile smartphone apps
Fact is, you
DO
want information at your fingertips. And searching for homes for sale is no different.
Now, your fingertips can do just that, with indy's first local smartphone app. Get details on any home for sale in central and southern Indiana, even across the world, with just a touch. Find and contact an agent or office. Get neighborhood information and statistics. Get everthing you hope to find in a real estate website, with a local focus. After all, real estate is local.
Droid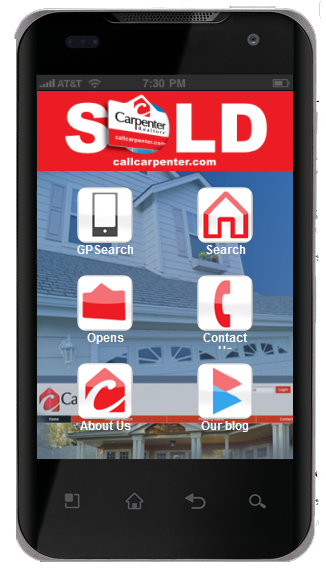 Visit the Android Market and search for Carpenter Realtors. You're done!

iPhone, iPad

Soon in the Apple Store, this app is currently available simply by scanning the QR Code to the right.
Once you're at our site, open Safari, then "Save to Home Screen." That will place our icon on your phone's screen for one-touch access to every home for sale.
Now go - have some fun!
top
Have you tried our GPS HomeSearch? Carpenter Realrors has revolutionized the way Indianapolis home buyers search for Indiana homes for sale. Revolutionized, you say? Yes - by deploying the first GPS real estate search program.
Called GPS HomeSearch, thousands of consumers are now using their smartphone to instantly locate houses for sale in the area or neighborhood they're in, at that moment. This cool new feature identifies their location and
displays all homes for sale
within a one-mile radius, sorted by the home's distance from the user.
For example, users can be directly in front of a home for sale and immediately download details on that home. Then they can view details on the next nearest homes in that same neighborhood and even map where those homes are.
Smartphone users who visit callcarpenter.com are automatically redirected the Carpenter's mobile website. When they select Search for Nearby Homes, the free GPS HomeSearch gives them immediate, up-to-date information about all homes for sale in any neighborhood they visit. This includes Carpenter's listings and those of all other firms.
As they narrow their search criteria, they'll narrow the number of homes located, making their home search simpler and faster. Home buyers at a showing or an open house can immediately find the other nearest homes for sale in the neighborhood they're in.
The GPS property search returns all results of all nearby homes for sale, not just Carpenter's listings. After receiving the list of homes for sale, sorted by distance, buyers have the option to review more details about any of the properties, including room information, all interior and exterior photos, school and neighborhood details and more. Callcarpenter.com is already known for having the most up-to-date, detailed information about all the neighborhoods they serve.
Carpenter's GPS HomeSearch not only allows buyers to search for Indianapolis homes for sale, but they can also request more information, schedule an appointment to view any home, calculate a mortgage and even find that weekend's open houses.
top
Location, Location, Location! Local Statistics
With real estate, it's all about location. What town do you live in? What neighborhood? Which school district? How near are you to the nearest Kroger? Where are the bike trails and parks?
At callcarpenter.com, we have the most complete, up-to-date neighborhood and town statistics and the best mapping or any real estate website.
Home Values
Home Appreciation
Home Age
Population
Population Density and Age
Employment, Taxes and Estimated Job Growth
Education
Weather
Commuting Time
Distance to Nearby Businesses of any Kind
Sold Homes

When you search on callcarpenter.com, you're getting all of that, proving that maybe it's not just location, maybe it's about location
information
.
top
Neighborhood Reports
All of those statistics are available in complete, handy neighborhood reports. Whether it's helping you understand the valuation your agent is suggesting for your home or comparing two neighborhoods in which you're considering buying, these are the ones you want.
Check it out. Click on any of the homes for sale above and scroll through the tabs next to the home's details.
Heck,
click here
to see a comparison of offerings on various sites.
top

Home Marketing System
Carpenter Realtors®' exclusive Home Marketing System is designed to help you sell your Indiana home at the best possible price, for the most favorable terms, in the shortest period of time and with the least inconvenience to you. It's a proven system, providing wide exposure for your home, from complete internet presence to home for sale advertising.
No one else has a comprehensive a program as Carpenter. Not only do we help develop an effective pricing strategy for your home's sale, but we advertise and market your home more aggressively than anyone. Your home will be visible and seen by more prospective buyers. Here's how:
VisualTour virtual tour on every Carpenter home for sale

International internet exposure on dozens of national sites like Realtor.com, frontdoor.com, zillow.com, google, Yahoo! and more

trulia.com and HomeFinder.com

display your home with more photos, more details and first in a search, giving you that advantage of being seen first

Our weekly TV Showcase of Homes

every Saturday morning on WNDY, channel 23, at 10:00 am, exposing to more potential buyers!

Yard Signs, the most visible and unique in Indiana

Take-One Flyers and Boxes because every buyer wants information now

Broker Listing Cooperative (or MLS) giving information to every Realtor® in central indiana

Indisnapolis Star advertising allows Carpenter to "own" the real estate section of Indiana's largest newspaper, in 312,000 homes each Sunday

LeadingRE® Relocation Network - Member of the LeadingRE Network with representation in every major metropolitan market. What does that mean? It means more potential buyers for your home.

Home Merchandising Analysis gives your home an advantage when you have a showing

Direct Mail exposure, with tens of thousands of full color targeted direct mail marketing cards mailed to potential prospects every month

Home Warranty offers peace of mind to your potential buyers, a competitive advantage

We have the largest footprint in Indiana - With thirty (30) branch offices and sales associates located throughout Central Indiana, we have more agents helping to market and sell your home than anyone in the state.
top

About Carpenter Realtors®
With 30 offices throughout
central Indiana, Carpenter Realtors® helps more Indiana families buy and sell homes quickly and hassle-free. If you're looking for broad experience, a great knowledge of Indianapolis homes for sale and the strength and backing of a large firm, call Carpenter!

Have an Indianapolis home for sale? Call Carpenter! Want to buy an Indianapolis home? Call Carpenter!
Since 1970, we have been helping Indianapolis-area families with their real estate needs. Our real estate buying and selling services are designed to make buying or selling an Indianapolis-area home easier, quicker, and more rewarding.
Get details here.




Click here to see all Indianapolis and central Indiana homes for sale.