Westfield Indiana Homes for Sale | Carpenter Realtor
Homes for Sale in Westfield Indiana

Have more questions about Westfield Indiana single family homes for sale and real estate or Carpenter Realtors after reviewing this? Ask us!

Click here to find homes for sale in Westfield Indiana

In the early, 1830's, if you were standing in what is now Westfield, Indiana, you might have seen a few wagons a some horses pull up through the forested wilderness. Apparently that small group of Quakers from North Carolina liked what they saw and the town of Westfield was founded on May 6, 1834.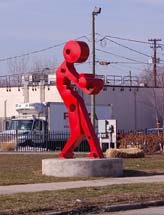 The locals talk about a legend that the town was planned as a stop on the Underground Railroad, as many families of the Quaker and Wesleyan Methodist churches supported the cause. Ask around and you'll get some interesting stories and proof of the legend being true.

Not long after, when the state strengthened laws against assisting escaped slaves, part of these Westfield Quakers split into an Anti-Slavery Friends meeting. They were serious.

In fact, the Quakers were so prevalent that today The Noblesville Friends Church says if your family has been in central Indiana for very long, odds are pretty good that you have Quaker ancestors. 180 years after those first settlers, Westfield has transformed into a small town that offers big city appeal and small town charm. Affordable, accessible and welcoming, you'll find excellent living, working, growing and playing opportunities. And it's growing. In 2000, the population was over 24,000. The 2010 census gives Westfield 30,000+ residents.


Back in 1834, Westfield was a full day's travel to the new state capitol in Indianapolis - 20 miles. Today it's a full-blown suburb of Indianapolis, 20 miles from downtown. On its own, Westfield has everything you're looking for in a safe and prosperous community. Excellent shopping, restaurants, events and more. Its history and Quaker heritage are evident, with historic landmarks such as Asa Bales Park and the adjacent Westfield slave cemetery being distinctive reminders of the Underground Railroad.

On the weekends, you'll find a ton of recreational opportunities like a championship golf course, league sports, an ice rink, fitness centers, parks, and walking & biking trails (including the famous Monon) winding through mature woods, over creeks
and through friendly neighborhoods.

If you're thinking of searching for a home for sale in Westfield Indiana, the town offers a nice combination of offerings, from affordable living for families at costs accessible to many first-time home buyers to upscale developments.


Carpenter Realtors® is always available for your search for homes for sale in Westfield Indiana. For those of you ready to buy a Westfield, Indiana home for sale, Carpenter Realtors® will handle everything from setting up an appointment to view a home for sale in Westfield, Indiana to the closing table.

Search for houses for sale in Westfield Indiana below, or click the Carpenter logo above to search by MLS listings or our easy-to use map.

Search Westfield homes for sale and real estate
Westfield Market Trends
Other Links
Westfield Neighborhood Demographics
Westfield School Report
Carpenter Realtors assists home buyers and sellers throughout central and southern Indiana.
With more than 20,000 Indiana homes for sale, callcarpenter.com is your best choice for new Westfield, Indiana homes for sale, real estate listings, virtual tours and open houses in Westfield, Indiana. Carpenter Realtors(r) is Indiana's leader in real estate and home ownership services, especially for Westfield, Indiana real estate for sale and homes for sale. Call Carpenter to sell real estate or buy real estate in Westfield, Indiana. Our real estate agents, all licensed REALTORS, specialize in Westfield, Indiana real estate. Whether you are buying or selling a new home, town house, condominium or apartment, choose a Carpenter Realtors agent or callcarpenter.com to find a property by map, MLS or BLC listing number or price.
Indianapolis offices
Indianapolis north, northside, Indianapolis northeast, Indianapolis northwest, Indianapolis downtown, Indianapolis east, eastside, Indianapolis west, westside, Indianapolis south, southside, Indianapolis southeast, Indianapolis southwest, Marion County

North offices
Indianapolis north, northside, Indianapolis northeast, Indianapolis northwest, Anderson, Carmel, Castleton, Cicero, Fishers, Geist, Indianapolis, Lawrence, Lebanon, Noblesville, Pendleton, Sheridan, Westfield, Zionsville, Boone County, Hamilton County, Madison County

South offices
Indianapolis south, southside, Indianapolis southeast, Indianapolis southwest, Bedford, Beech Grove, Bloomington, Center Grove, Franklin, Greenwood, Martinsville, Mooresville, Southport, Brown County, Johnson County, Morgan County, Monroe County, Lawrence County

East offices
Indianapolis east, eastside, Greenfield, Fortville, Lawrence, New Palestine, Shelbyville, Wanamaker, Hancock County, Shelby County

West offices
Indianapolis west, westside, Avon East, Avon West, Brownsburg, Crawfordsville, Danville, Greencastle, Monrovia, Plainfield, Hendricks County, Montgomery County, Putnam County

For national relocation to or from Indiana, call 800-630-1727.

Central Indiana Cities & Towns, Indianapolis Real Estate and Homes For Sale

Home Page

Main Search
TAGS: Homes for Sale in Westfield Indiana | Single Family Homes for Sale | Real Estate | Carpenter Realtors