IRVINGTON

Have more questions about Irvington homes for sale and real estate or about Carpenter Realtors after reviewing this? Ask us!

Click here to find your new Irvington home
Not many areas around central Indiana have a history nearly as complete and colorful as Irvington.
Officially, Irvington is a neighborhood on the near eastside of Indianapolis, five miles due east of downtown. Irvington is also an historic district, on the National Register of Historic Places (1987). The historic district is bounded by Emerson Ave., Pleasant Run Parkway, Arlington Ave. and the CSX Railroad. The National Road, now Washington Street (U.S. 40), cuts through the center of Irvington.

Originally planned as a quiet, simple, suburban town of Indianapolis, Sylvester Johnson and Jacob Julian founded it in 1870 and named it for Washington Irving. It was among the city's first "planned" suburbs, with an interesting winding street pattern. The area was a highly sought-after neighborhood, attracting politicians, heads of industry, artists and academicians. That enabled the area to have a wide variety of architectural styles and types, many of which remain today. By the turn of the century, it was also attractive to the city of Indianapolis and was annexed into the big town.

In the early 1870s, Northwestern Christian University was looking for a new home. Irvington won and for more than a half-century (1875-1928) Irvington was home to the newly-renamed Butler University, turning the area into a "college town." At least a half-dozen Butler buildings graced Irvington and nearly a thousand students did their time. Today, only one building remains, the Bona Thompson Memorial Library, now used as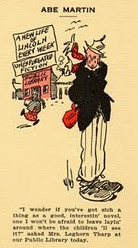 the Irvington Historical Society's headquarters and museum.

Around that same time, the college atmosphere apparently drew the artistic types. It was a favorite of the city's best fine artists and writers. Among those was Kin Hubbard, creator of the nationally syndicated cartoon Abe Martin. Irvington was also the birthplace and home to a fine art movement, the Irvington Group. Led by noted Indiana painters William Forsyth, Dorothy Morlan, Clifton and Hilah Wheeler, the group earned national attention. Today, many of their studios remain. There's an interesting story about a man named D. C. Stephenson who owned one of the great historical homes in Irvington. We can only let that story be told here. Keywords: haunted, Benjamin Harrison, murder, Ku Klux Klan.

Now, in the 21st Century, after far too much time on a downward slide, Irvington is enjoying a very nice urban-renewal renewal. A family-friendly area, Irvington features Ellenberger Park (1903). The park features a pool, two playgrounds, eight tennis courts, baseball and softball diamonds, a football field, a fitness trail, a beach volleyball court and a sledding hill. Better yet, Ellenberger Park offers summer outdoor movie screenings and connects to the Pleasant Run Trail greenway, a 6.9 mile greenways trail connecting to the Indy Southside's Garfield Park. You'll find numerous restaurants, both locally-owned and chains, to suit any taste. Many shopping options are within minutes, from downtown's Circle Centre Mall to Carmel's Clay Terrace.

For other fun, the Irving Theatre, has re-opened as a venue for live music. Built in 1913 and originally used as a nickelodeon, then a movie house, it has had a storied history. In the early years, it also held court for various political rallies and charity events but was mostly a movie house for several decades. In the '60s it felt the pressure of suburban expansion and newer movie theaters and switched to, well, more "adult" fare. After a short stint as a second-run house, the theatre is now an all-ages music venue that also hosts art showings and community and private events.

Also around Irvington, there are a number of local events, from ice cream socials to carnivals, that attracts those families we talked about. The most popular is the Historic Irvington Halloween Festival, one of the oldest around Indianapolis. For the festival, they close Washington Street for booths, food and fun and finish with the big Halloween Parade.

Of course, now you'll want to see what kind of houses are for sale in Irvington. We can help.

Search Irvington Homes for Sale







Carpenter Realtors® is always available for your search for Irvington, Indiana real estate. For those of you ready to buy an Irvington, Indiana home for sale, Carpenter Realtors® will handle everything from setting up an appointment to view a home in Irvington, Indiana to the closing table. Search for houses for sale above, or click the Carpenter logo above to search by MLS listings or our easy-to use map.

Carpenter Realtors assists home buyers and sellers throughout central and southern Indiana.
With more than 20,000 Indiana homes for sale, callcarpenter.com is your best choice for new Irvington, Indiana homes for sale, real estate listings, virtual tours and open houses in Irvington, Indiana. Carpenter Realtors(r) is Indiana's leader in real estate and home ownership services, especially for Irvington, Indiana real estate for sale and homes for sale. Call Carpenter to sell real estate or buy real estate in Irvington, Indiana. Our real estate agents, all licensed REALTORS, specialize in Irvington, Indiana real estate. Whether you are buying or selling a new home, town house, condominium or apartment, choose a Carpenter Realtors agent or callcarpenter.com to find a property by map, MLS or BLC listing number or price.
Indianapolis offices
Indianapolis north, northside, Indianapolis northeast, Indianapolis northwest, Indianapolis downtown, Indianapolis east, eastside, Indianapolis west, westside, Indianapolis south, southside, Indianapolis southeast, Indianapolis southwest, Marion County

North offices
Indianapolis north, northside, Indianapolis northeast, Indianapolis northwest, Anderson, Carmel, Castleton, Cicero, Fishers, Geist, Indianapolis, Lawrence, Lebanon, Noblesville, Pendleton, Sheridan, Westfield, Zionsville, Boone County, Hamilton County, Madison County

South offices
Indianapolis south, southside, Indianapolis southeast, Indianapolis southwest, Bedford, Beech Grove, Bloomington, Center Grove, Franklin, Greenwood, Martinsville, Mooresville, Southport, Brown County, Johnson County, Morgan County, Monroe County, Lawrence County

East offices
Indianapolis east, eastside, Greenfield, Fortville, Lawrence, New Palestine, Shelbyville, Wanamaker, Hancock County, Shelby County

West offices
Indianapolis west, westside, Avon East, Avon West, Brownsburg, Crawfordsville, Danville, Greencastle, Monrovia, Plainfield, Hendricks County, Montgomery County, Putnam County

For national relocation to or from Indiana, call 800-630-1727.

Central Indiana Cities & Towns, Indianapolis Real Estate and Homes For Sale


Home Page

Main Search
TAGS: Irvington Indiana, Single Family Homes for Sale, Real Estate, Carpenter Realtors