Buying? Selling? Just Thinking?

Read my latest blog entries

Looking for a home? Find any of
20,000+ central Indiana homes for sale
with quicksearch or try my property search in the top menu.
If you're thinking of buying your next home or selling your current home, I have the knowledge and the tools to help you through the process. Click on "Buying A Home" or "Selling Your Home" for more details. Or find out
more about me
!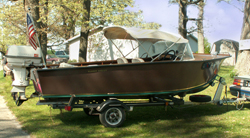 If it helps you understand me, here's a little story. This picture is a 1962 Thompson plywood boat with a non-working motor that doesn't even match the boat. If I can sell this stinking, barely-floating, non-running boat in five days, any challenge you throw at me will be easy.
How I Sold This Boat!

Living In Carmel
Living In Cool Creek

Living In Fishers
Buying? Are You Pre-Approved?

How We'll Market Your Home
About Carpenter Realtors