New Palestine Real Estate
Find homes for sale in New Palestine, Indiana. Whether you're new to New Palestine, or a long-time resident, here are a few interesting facts about Real Estate in New Palestine, Indiana. New Palestine boasts 64 homes for sale with an average price of $198,000. The average income in New Palestine, Indiana is $67,383 compared to the county average of $62,702.
Searching for New Palestine Real Estate? New Palestine has a population of 2,210. The median age in New Palestine is 37.6 years. New Palestine is more family-centric than the surrounding county with 38.7% of the households containing married families with children. The county average for households married with children is 34.78%.
NEW PALESTINE

Have more questions about New Castle Indiana single family homes for sale and real estate or Carpenter Realtors after reviewing this? Ask us!

Click here to find your new New Palestine home
Originally settled October 1838, New Palestine first consisted of fifteen blocks and thirty six lots. In the early 1870s, the area's 279 residents voted to incorporate as a town. For several years there was some confusion over the area's name. While the town was New Palestine, its post office was named Sugar Creek and the railroad station was called Palestine. In 1889 the town won the battle (arm wrestling? Crazy 8s? UNO?), and all were changed to New Palestine.


Today, New Palestine is nearly a suburb of Indianapolis, with many residents opting for the quieter, more rural lifestyle and more affordable home values of "New Pal" while working in Indianapolis. Some famous natives of New Pal include Angela Ahrendts, CEO of Burberry and former NFL tight end Todd Yoder.

Many fairs, festivals and cultural events are readily accessible from New Palestine, being found in nearby Greenfield and Indianapolis.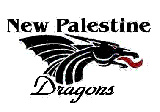 Locally, New Palestine High School is the central hub of the town with countless events there, the most attended including football and basketball games. The town also hosts its annual New Palestine Parade and the annual Fourth of July festival.
Carpenter Realtors® is always available for your search forNew Palestine, Indiana real estate. For those of you ready to buy a NewPalestine, Indiana home for sale, Carpenter Realtors® will handle everything from setting up an appointment to view a home inNewPalestine, Indiana to the closing table. Search for houses for sale below, or click the Carpenter logo above to search by MLS listings or our easy-to use map.
Search New Palestine homes for sale and real estate
Carpenter Realtors assists home buyers and sellers throughout central and southern Indiana.
With more than 20,000 Indiana homes for sale, callcarpenter.com is your best choice for new New Palestine, Indiana homes for sale, real estate listings, virtual tours and open houses in New Palestine, Indiana. Carpenter Realtors(r) is Indiana's leader in real estate and home ownership services, especially for New Palestine, Indiana real estate for sale and homes for sale. Call Carpenter to sell real estate or buy real estate in New Palestine, Indiana. Our real estate agents, all licensed REALTORS, specialize in New Palestine, Indiana real estate. Whether you are buying or selling a new home, town house, condominium or apartment, choose a Carpenter Realtors agent or callcarpenter.com to find a property by map, MLS or BLC listing number or price.
Here's
more about New Palestine
.
New Palestine Map
New Palestine real estate offices
Real estate near New Palestine
Nearby Cities Homes for Sale