Avon Real Estate
Find homes for sale in Avon, Indiana. Whether you're new to Avon, or a long-time resident, here are a few interesting facts about Real Estate in Avon, Indiana. Avon boasts 251 homes for sale with an average price of $194,805. The average income in Avon, Indiana is $72,452 compared to the county average of $68,283.
Searching for Avon Real Estate? Avon has a population of 12,542. The median age in Avon is 32.3 years. Avon is more family-centric than the surrounding county with 43.82% of the households containing married families with children. The county average for households married with children is 40.85%.
Avon
<
Have more questions about Avon Indiana single family homes for sale and real estate or Carpenter Realtors after reviewing this? Ask us!

Click here to find your new Avon home.

Avon was originally known as Hampton when a post office was opened in 1833. After a number of name changes, "Avon" stuck when a railroad company drove a stake into the ground with this title. And you don't mess with a stake in the ground. According to local legend, Avon stands for "A Village Of Neighbors."

Today, Avon is one of the fastest-growing suburbs of Indianapolis, only 12 miles from downtown Indianapolis. Since its incorporation, the Avon community has continued to grow both economically and residentially, while deliberatey trying to maintain the roots of its proud past. Already one of the fastest growing suburbs in central Indiana, you'll find plenty of q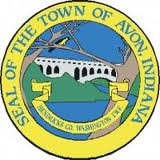 uality housing, most of wihch was contructed within the past twenty years. And shopping? This is where everyone is, so there's no shortage of places to get your goods.

As we mentioned, since 1990 Avon has experienced explosive growth. Why's that? After its location, within shouting distance of Indianapolis, the growth can be attributed to a number of factors including an outstanding educational system and library, a business-friendly attitude, great retail and shopping alternatives and first-class parks and recreational facilities and programs. Avon's neighborhoods include an active and involved neighbors who take pride in the history and future of their community.


| | | |
| --- | --- | --- |
| AVON HOME VALUES | City | U.S. |
| Median home value | $185,000 | $217,200 |
| % Owner-occupied | 86.5% | 66.2% |
| % Vacant | 5.5% | 9.0% |
| Rental | 8.3% | 24.8% |
Search for homes for sale and properties in Avon
Carpenter Realtors assists home buyers and sellers throughout central and southern Indiana.

Central Indiana Cities & Towns, Indianapolis Real Estate and Homes For Sale
With more than 20,000 Indiana homes for sale, callcarpenter.com is your best choice for new Avon, Indiana homes for sale, real estate listings, virtual tours and open houses in Avon, Indiana. Carpenter Realtors(r) is Indiana's leader in real estate and home ownership services, especially for Avon, Indiana real estate for sale and homes for sale. Call Carpenter to sell real estate or buy real estate in Avon, Indiana. Our real estate agents, all licensed REALTORS, specialize in Avon, Indiana real estate. Whether you are buying or selling a new home, town house, condominium or apartment, choose a Carpenter Realtors agent or callcarpenter.com to find a property by map, MLS or BLC listing number or price.

Here's a bit more about Avon.
Avon Map
Avon real estate offices
Real estate near Avon
Nearby Cities Homes for Sale